Innovative fusion that changes the world with new inspiration one after another.
Innovation
INNOVATION
Sometimes, we create new products through collaboration that transcends industry borders and boundaries. For example, why not brand the treasures that are sleeping in your area into cosmetics that are full of originality and share them with us?
Immediately bringing our customers' thoughts and new ideas to product development.
Sending the latest formulations from Tokyo to the whole country and the world.

Taking advantage of the Tokyo area, we are always working on research and development, looking ahead for trends, discovering new materials and finding hints that will lead to hit products. We serve as a transit point for connecting our network with our customers, both from Japan and from overseas.

Easy communication with development.

You can communicate directly with our development team stationed at our Tokyo Lab about your vision. We respond to various requests from a professional standpoint. We give detailed explanations of proposed samples and advice on pharmaceutical issues.

Quick sample suggestion

We will prepare samples within two weeks from the first consultation with you. As well as quickly getting to the development stages we are also happy to be flexible with regard to the adoption of materials provided by customers and renewal of existing products.
For example, make cosmetics with local specialties to revitalize the area.
Make cosmetics using local products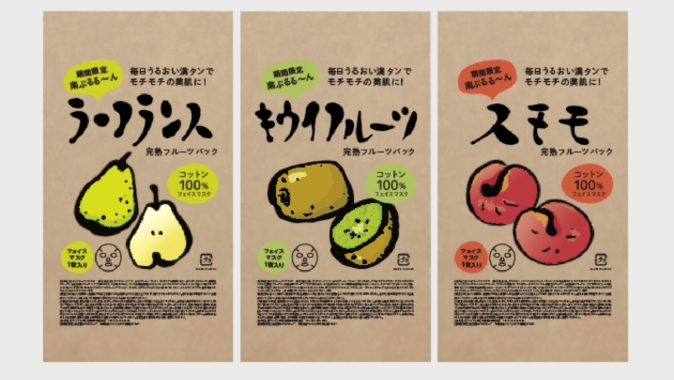 Face mask using fruit from Yamanashi, jointly developed with Minami Alps City.

Yamanashi fruit pack
We jointly developed a face mask with the Minami-alps city that utilizes special products such as sumomo (Japanese plum) and La France pears grown at the foot of the Southern Alps. Vellsheena actively engages in initiatives and collaboration with local governments, universities, local industries, and contributes to regional revitalization.
For example we expand the possibilities of wine production by-products. After thorough safety evaluations, materials such as grape peels, honey, hot spring water and volcanic ash can be used to make cosmetics. Let's brand these treasures which are sleeping in our areas and promote them globally.
An example of a possible innovation project.
case01

Develop locally circulating products by taking in locally produced raw materials.

case02

Pursuing creativity through the development of raw materials and functionality through collaboration between industry and academia.

case03

Development of new formulations and applications created from in-house ideas.

case04

Develop simple, sustainability products, including packaging.
Enriched with amazing moisturizing power.
Plant-derived, high-density cellulose made from coconut.

High-functioning natural cellulose made by cultured fermentation of acetic acid bacteria in coconut water. The gel-like high-density sheet with nano-level ultra-fine fibers has excellent water retention, adhesion, and enables efficient penetration of serums into the skin. Production is at our own dedicated factory to achieve stable supply.

The amount of hydrogen generated is greatly increased.
"VL hydrogen source" originally developed by Vellsheena.

"Hydrogen" is attracting attention in the field of beauty by suppressing reactive oxygen. Vellsheena has succeeded in developing a unique "VL hydrogen source powder" that generates 100 times more hydrogen gas than the usual magnesium hydride gel pack that is sold normally .

The first "Bliss pack automatic wrapping machine" introduced in Japan that combines blister and pouch

An automatic machine that fills and wraps quantities in a new type of package called a bliss pack that combines a blister and a pouch.Expand the application of cosmetics.